Welcome!
to Wildlife Forever
For 25 years, Wildlife Forever has been working to ensure healthy, sustainable populations of all kinds of fish and wildlife.
With successful conservation projects in every state, no matter which species is your favorite, chances are Wildlife Forever is there to help.
Wildlife Forever's grassroots conservation projects fall into four categories:
FISH AND WILDLIFE MANAGEMENT

Wildlife Forever has been involved in countless species re-introductions, bringing fish and wildlife back to the places they were once found.



HABITAT

Loss of living space is perhaps the greatest challenge facing both fish and wildlife. Millions of acres of wetlands and habitat are conserved across 34 states with the help of Wildlife Forever members and donors.
EDUCATION

Wildlife Forever leads the nation in educating the public about the devastation caused by invasive species and recruiting to help prevent their spread,Our visionary conservation education programs for children include the

State-Fish Art Contest, the Critter Books pocket guide series and a 14 lesson CD-ROM Curriculum.
As a 501(c)3 charity, Wildlife Forever relies on the
tax-deductible donations, memberships and purchases
of those with a passion for the outdoors.
News & Events
02/24/14
Stop Aquatic Hitchhikers! Makes Over 200 Million Impressions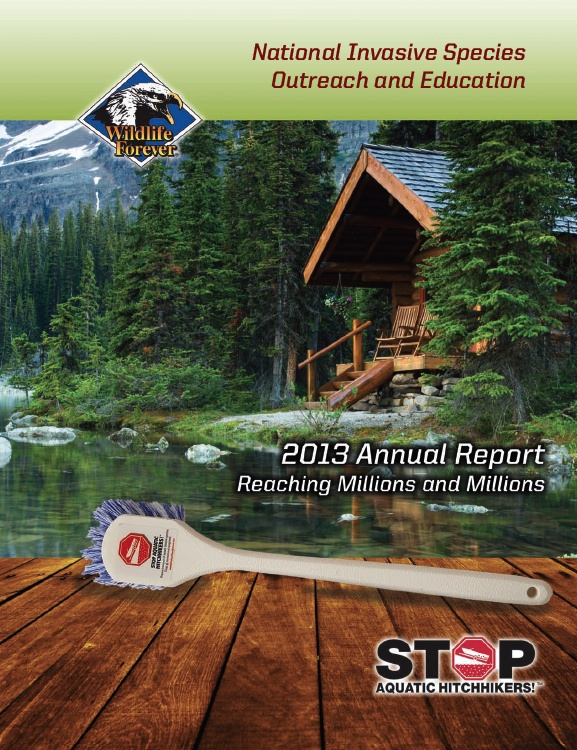 Brooklyn Center, MN- The Stop Aquatic Hitchhikers! campaign (SAH!) reached over 200 million impressions in 2013 thanks to partnership efforts, social media and a consistent Clean, Drain, Dry message. Working closely with the U.S. Fish and Wildlife Service, U.S. Forest Service, National Parks Service and others, Wildlife Forever has modernized the campaign, developed state partnerships and has renewed engagement with recreational users. This past year, SAH! partners identified growth opportunities through the use of modern marketing techniques that outdoor industries use to reach their audience. Targeting outdoor recreational users is the key component to slowing the spread.




read more >>
---
02/12/14
February Partner in Action
Brooklyn Center, MN - On January 28, 2014, Conservation Minnesota, Wildlife Forever, and Stop Aquatic Hitchhikers™! (a national campaign coordinated by Wildlife Forever), signed a memorandum of understanding that will further strengthen the shared goal of protecting lakes and rivers from invasive species.
read more >>