---


White Bear Lake, MN- Wildlife Forever's coalition of partners and bait shops across the Midwest are reminding anglers how to properly handle live bait after a day on the water.  Releasing leftover bait into the environment can pose risk of spreading diseases and aquatic invasive species, which can have devastating effects. New custom bait bags and posters with the message "Don't Let it Loose" are now available for distribution. The bags give instructions about how to properly dispose of the bait in the trash or how to keep it if planning to reuse it on the next trip.

Parasites, bacteria, and viruses are of top concern, especially, VHS (viral hermorrhagic septicemia), which is a deadly fish virus first detected in the U.S. in 1988.  Another concern is the water used to transport live bait from one waterbody to another. Anglers need to replace the water in their bait buckets with bottle or tap water when changing waterbodies.  This is crucial because invasive species like spiny water flea and zebra mussel larvae are very small and can unknowingly be transported in bait buckets.

Earthworms are no exception. Many earthworms are non-native to the U.S. and are causing serious damage to our woodland habitats. Once invaded, they alter soils and create conditions suitable for invasive plants. Dispose of unused worms in the trash, not on land.

"As an angler, I was frustrated by the lack of communication teaching anglers about the bait issue," said Dane Huinker, Conservation Program Manager of Wildlife Forever. "By working directly with local governments and bait dealers, we're directly reaching anglers with conservation best practices, which is the first step in changing behavior," Dane said.

"Anglers use bait shops as not only a place to buy tackle but also learn and share information about the sport they love so it's absolutely crucial we integrate invasive species prevention into the conversation at our stores to protect our passion," Said Shawn Schlosser, Manager of DH Custom Rods and Tackle.

Bait bags, posters, and banners can be purchased by contacting Wildlife Forever. Contact Wildlife Forever today while supplies last!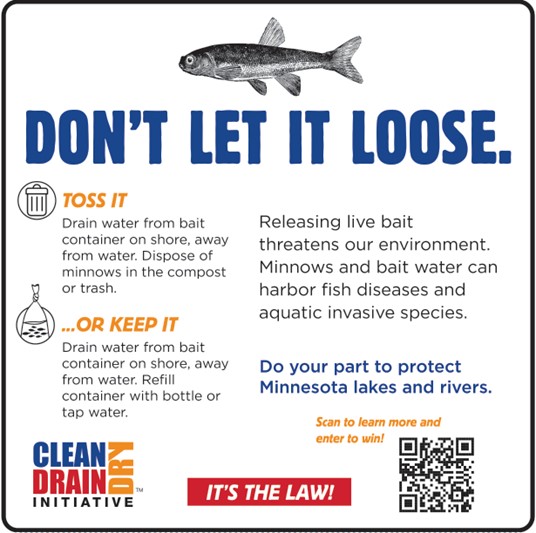 The Clean Drain Dry Initiative™ is the national public awareness campaign to educate outdoor recreational users on how to prevent the spread of invasive species. Strategic communications, marketing, outreach and educational services provide access to consistent messaging, and resources for implementing AIS prevention programs. To learn about partnership opportunities, contact Dane Huinker at DHuinker@Wildlifeforever.org or visit www.CleanDrainDry.org.

About Wildlife Forever (WF): Wildlife Forever's mission is to conserve America's wildlife heritage through conservation education, preservation of habitat and management of fish and wildlife.
Join Today and get involved. Learn more about the award-winning programs, including work to engage America's youth, at www.WildlifeForever.org